Cannabis is Medicine
How Medical Cannabis and CBD are Healing Everything from Anxiety to Chronic Pain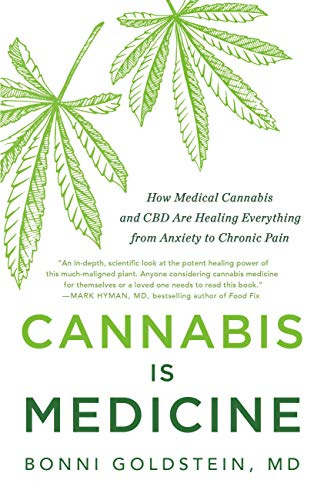 Today I'm excited to announce that publisher Little Brown Spark has published my beloved friend and Sophie's doctor, Dr. Bonni Goldstein's book Cannabis is Medicine. Dr. Bonni has revised an earlier edition of the book, adding in all the new science and information. It's an in-depth scientific look at the "potent healing power of this much-maligned plant," as well as rich in stories of Dr. Bonni's experiences with patients of all ages. Everyone should have a copy.
My interest in the book is three-fold: One, Dr. Bonni has literally helped to heal Sophie and our family. I write often and think constantly about the difference between healing and curing in reference to chronic disease and its intersection with disability and the American medical industry. While both healing and curing are necessary, I'd argue that healing is distinct from and far more important than curing. My experiences raising Sophie and dealing with the fall-out from her uncontrolled seizures and developmental disabilities, as well as the chaotic state of the American medical system have demonstrated that curing is something transactional and that healing is profound. Dr. Bonni is a medical doctor and caregiver in the truest sense of the words, but she is also a healer. Secondly, Sophie's story is featured in the book, an excerpt of which I'll print below, and third, I was involved in the first edition of this book and have benefitted financially. I hope that you'll educate yourself about this incredible plant by reading the book and perhaps find relief, cure and healing under Dr. Bonni's guidance.
I've only included an excerpt of Sophie's story, so to read more and find out the "ending," as well as enrich your knowledge of cannabis and hear others' stories of how their chronic diseases and issues were helped, please consider buying the book!
Excerpt from Cannabis Is Medicine, by Bonni Goldstein, MD:
Sophie's Story
Sophie was one of the first patients in California to use the famous Charlotte's Web CBD Oil in 2013. I wrote about Sophie in my first book and include her story here, with an update.
I went to medical school from 1986 to 1990 and did an internship from 1990 to 1993, completely unaware of the incredible discoveries of the cannabinoid receptors and the endocannabinoid system. By 1995, the first two cannabinoids were discovered, but cannabis medicine was still unknown to most physicians. When, in June of that year, three-month-old Sophie was diagnosed with infantile spasms, a rare seizure disorder with a particularly grim prognosis, the neurologists began a course of high-dosage steroids and benzodiazepines. By the time Sophie was nine months old, her development plateaued, she was on three antiepileptic medications, and the seizures kept coming. Her neurologists in New York City could find no reason for her epilepsy and diagnosed her with cryptogenic infantile spasms. Over the next nineteen years, Sophie was treated with twenty-two drugs, two courses of the ketogenic diet, along with countless alternative therapies, including osteopathy, Chinese herbs, and acupuncture. Her spasms evolved into mixed seizures — atonic drops, tonic-clonic, partial complex and absence — but no medication helped stop them. She suffered from serious side effects, and her quality of life was sometimes unbearable.

Elizabeth, Sophie's mother, told me that her old life ended on the day Sophie was diagnosed, and her new life began, a life of sleepless nights and days filled with intense caregiving, witnessing the constant suffering of her daughter, and navigating all the systems of care that having a sick and disabled child demanded….

Even as Elizabeth became a nationally recognized advocate for children with special healthcare needs, she never gave up hope that there was something that might help Sophie, and as the years went by, she became more and more convinced the traditional treatments for refractory epilepsy were nothing but a crapshoot…

I think often about the birth of and early diagnosis of Sophie — how her life and treatment virtually coincided with our initial forays into researching and learning about the endocannabinoid system. Elizabeth doesn't waste time thinking what Sophie's life and the life of her family might have been like if they had been able to try cannabis back when she was first diagnosed. While she shared with me how angry she feels when she's contacted by parents of young children on four or five medications yet still seizing, she is encouraged that more families in the epilepsy community are seeing the effects of cannabis medicine and fighting for access to it. She is at peace knowing Sophie's quality of life is now dramatically better, and her whole family rests easier.